Sailstice for the Merfolk
Summer Sailstice in SL invites the entire mer community to join us for fun on June 20! Mers are welcome to swim with the cruisers and check out the parties and concerts as well. Especially don't miss the Sails & Tails party at 5:00 PM SLT!
See our Events Page for the schedule and Teleport links! You'll want to check out the items in orange, purple or red (the green ones are races and we don't want to lag the racers).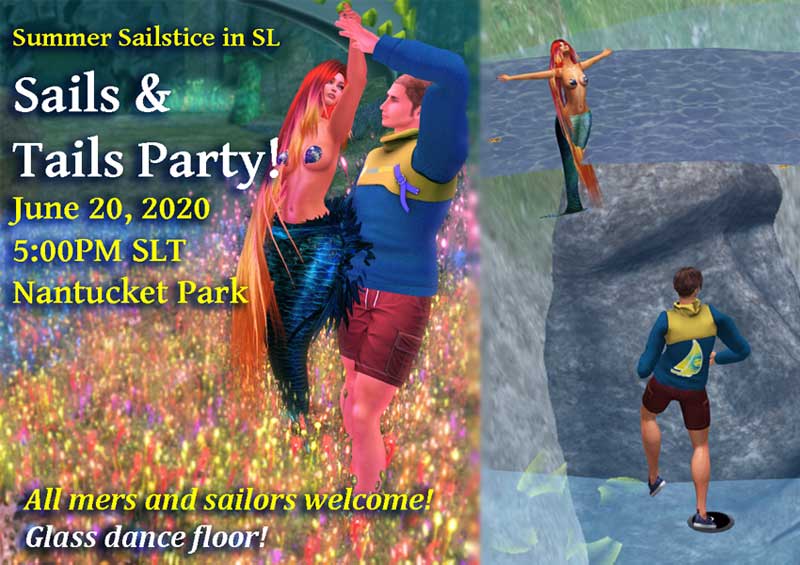 You'll want to swim in style, so stop by our SS in SL HQ at Flying Manta Yacht Club for your free Sailstice tail. Click the Join our group sign on the wall first, and then the Sailstice Gift for Merfolk to the left. You'll find a tail and alpha mask for use with classic SL bodies, and a boxed Maitreya tail as well. There's also a basic Mer AO for any one who's a first-timer.
Also: although it's not required, please visit the official Summer Sailstice in SL Web page and register there! They only ask for a name (your SL name is fine) and an Email address. Registering shows the RL Sailstice folks that we're getting a lot of support for our virtual event! You also become eligible for a pile of great prizes.
Here's the TP link to our HQ! (You'll be up in the air, so take a gill-full of water before TPing.) http://maps.secondlife.com/secondlife/Port%20Victoria%20Isle/181/121/23
Look for this sign to the left of the other ones: